It's been awhile since I've ready something scary, having been more into romance for a few months now. NetGalley gave me a good excuse to wander into something different for a little while with this horror/mystery. I really enjoyed it, and though there's nothing mind-blowing or new, it still held my attention and gave me some unsettling feels. Goodreads shows that this comes out April 14th, so if you're so inclined, pick up a copy and give it a shot.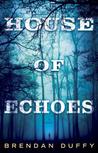 House of Echoes by Brendan Duffy
My rating: 4 of 5 stars
I received an ARC of this copy from NetGalley in exchange for an honest review.
Horror-mystery is a genre I tend to enjoy more in movies than books. Some of the newer authors I've read don't seem to do horror in general as well as some older writers, often falling to cliche without being entertaining. It was refreshing to read this novel by Brendan Duffy, because even though the story had many of the classic horror tropes, it was still delivered in a well-written, haunting manner.
Ben Tierney brings his wife and two sons to a place called The Crofts, a house in a village full of history and mystery, and one that he wants to write about. It's also an escape from the mental troubles his wife had faced when they lived in the city and a chance to start over by turning the large house into an inn for them to run. It's also an opportunity for a new start for his older son, Charlie, who had faced bullying at his previous school. The people in the village are friendly and Ben feels he's in the right place, until strange things begin happening and a strange entity starts luring his son into the woods.
The writing was solid and the author did atmosphere really well. From the start, the book was eerie. The setting was common but the way it was presented still gave me, as the reader, a chill when picturing some of the scenes and happenings. There wasn't a lot of gore in the book, but what there was had an impact on the story. The plot had a good overall concept, though I think there may have been a little too many different tropes thrown into the mix. At one point, I started reading it like a checklist of plot points found in horror. Having said that, he never used something that wasn't part of the plot, so even though there was a lot going on, it still tied into the storyline.
The characters didn't start out with much depth, but one thing I liked about them is that they all remained somewhat of a mystery. For instance, Ben's wife seems to be losing her mind at one point, and even though there are reasons for it, I started wondering if maybe she was going psychotic. Same with the son, because let's face it….creepy kids and horror go together well. The changes in the characters kept an air of mystery to the story, even though a horror fan is likely to figure things out fairly early. And what's nice about this book is that figuring it out doesn't matter…it's still a good book to read to the end.
I'd recommend this to all horror and mystery readers, though I think those who like classic ghost stories/mysteries are going to enjoy it more than those looking for something edgy or gory.